Today, e-waste disposal providers offer environmentally sustainable ways to dispose of electronic waste. For example, when you send your e-waste to recycling facilities, the usable metal parts of your devices can be used to create new raw materials for products.
But even when these options are available, there's still value in delaying the disposal of your electronic waste. The longer that they are of use to you, the more you can help avoid fill-ups at recycling facilities or landfills.
Whether you're using electronics for personal or business use, it's best that we all share in the responsibility of managing our e-waste. Here are a few ideas you might want to consider.
Personal E-waste Products Include:
Cellphones, tablets, kindles.
Laptops, desktop computers.
Blu-Ray players, gaming consoles.
Phased-out gadgets like iPods, walkmans, and radios.
Phased-out products like CDs, VHS tapes, and cassette tapes.
Old models of any device.
Be Extra Savvy before Buying a New Product
The latest models are marketed to look as if they were the best choice for you. The keyword here is marketed – manufacturers can be good at making you believe as though the best (and only) way to experience their brand is to buy their latest model.
Before buying a new product, devote some extra time to think about its value. The benefit you're looking for here is longevity, or how long a product can last before it descends into its natural wear and tear. Read reviews or ask your tech-savviest friend about it so you can assess whether the product you're looking at lasts long.
If not, it may not be worth it to create e-waste out of the product you still have, especially if it's in excellent working condition. If you do decide to purchase a new one, avoid creating e-waste by selling or giving away the device you replaced.
Don't forget to have your data wiped from the electronic device like a hard disk drive or any other storage device. The purpose of secure disposal of IT equipment applies to personal devices as well – you don't want your sensitive information to fall into the wrong hands.
Know that a Product can be Repaired
Having your device repaired should be your first step. Even though it may seem to be beyond repair, if you can connect with a truly talented repair specialist, you might just surprise yourself at how much longer your unwanted electronics have before it needs to be put down.
You can even spend for on and get that money back plus a profit! Have the item refurbished and then sell it at a price lower than its original.
Get Creative: Consider Recycling
With how fast trends are changing, products from the 90s and even the early 2000s are now considered vintage. Old CDs or cassette tapes can be used as decorative items or collector's items for display. If you don't want to use them yourself, look around for small DIY businesses or collector's items resellers that would be happy to take them off your hands and recycle electronics.
Your Last Resort: Proper E-waste Disposal
When you find that there is no other use for the e-waste you have, hand them over to a disposal facility that will take care of them properly. A company that offers secure disposal of IT equipment should have solutions for you as well.
Check if the facility turns to recycling first, as most of your stuff will contain valuable metal. You want to make sure that the facility avoids dumping in landfills as much as they could – where possible, not at all.
Company IT assets Include:
Servers
Computer units
Company-issued portable units like laptops, tablets, and phones
Invest in Quality IT Assets
You shouldn't cut your budget on IT assets. With how digitally dependent businesses today are, best believe that the success of your business will depend on the quality of your IT assets.
So, make sure to buy servers or units that are of the best quality. They may hurt your budget now, but they will prove to be an excellent investment in the long run. The longer they serve you, the better they are for both your business and the environment.
Be Serious about Maintenance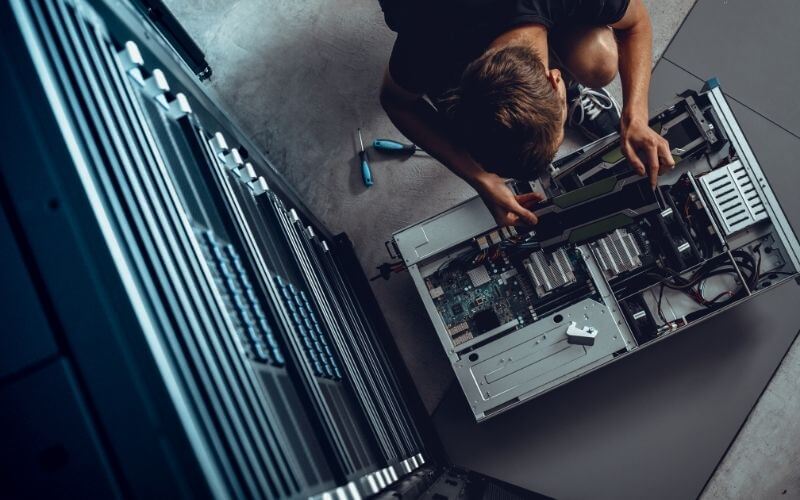 Recommend to your IT team that your IT assets be maintained as often as possible, to extend their longevity. You can explore options such as routine maintenance shutdowns or other similar solutions. The important thing here is to be proactive, not reactive, about maintenance.
Secure IT Asset Disposal
Of course, you always have secure IT asset disposal options like decommissioning and data wiping at your disposal. These methods allow you to dispose of IT assets that no longer satisfy your business needs.
After having these methods performed, your assets can be sold for parts. Or, if it's still in good working condition after repairs, you can sell them to other companies or organisations that may have a tighter budget.
Ask Eco IT Solutions about E-waste Disposal Solutions Today
Whether you want your data wiped or you're in need of secure IT asset disposal, the team at Eco IT Solutions can help. We promise to explore with you all the ways you can reuse your electronics and offer relevant solutions.
Call us at 02 8055 3775 or email us at info@ecoitsolutions.com. Or, you may visit our website and leave a message through our online contact form.